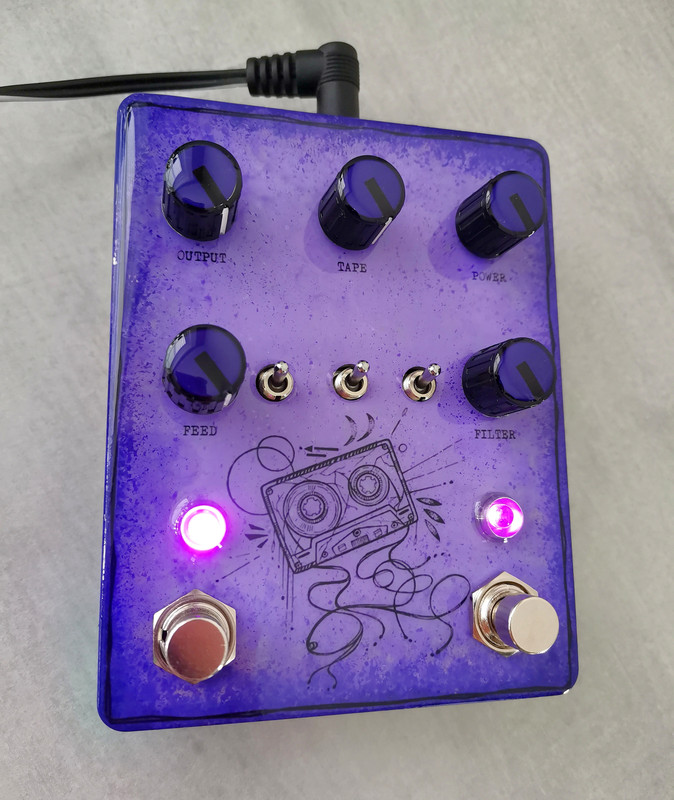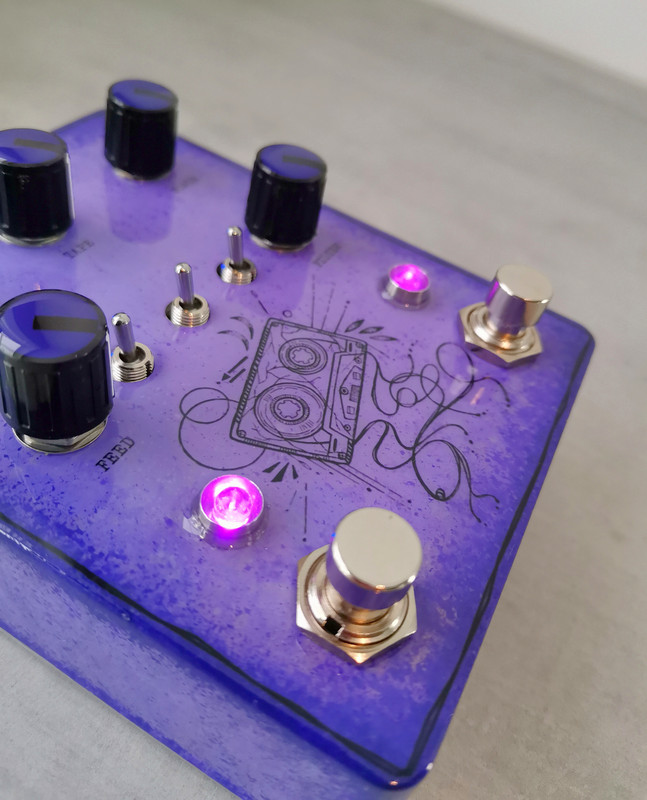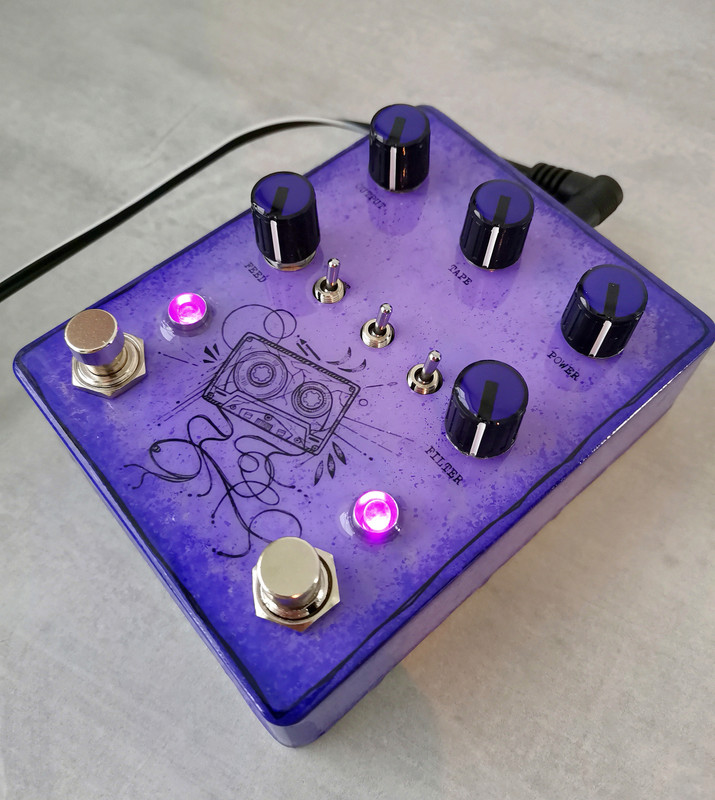 Hviskelek is a juiced up version of the cult classic Seppuku FX Kompakt Kassette circuit.
For the last almost 2 years, Alec of MAE has been commissioned to help me out with this project, including designing and reiterating the boards and listening to my endless OCD rants on minute changes no one would probably care about, so big shout-outs are in order!

Controls:
Output: output volume
Tape: delay time
Power: envelope sensitivity
Feed: sets the feedback when the left footswitch is engaged (when footswitch is disengaged, you only get one repeat like on the original)
Filter: smooths out the shrillness of the circuit by inputting more lower frequencies from the input as well as cutting the highs of the output
Toggle 1: light clipping that lowers the envelope threshold (clipping button/toggle from the original circuit)
Toggle 2: heavy clipping/distortion (new, designed by Alec of MAE)
Toggle 3: Cut dry/wet only
Quality of life upgrades to the circuit:
- lower input gain. This allows, in conjunction with the new filter, for normal delay sounds with more control over the envelope modulation. Paired with the new feedback feature, you can also get some great lo-fi chorus, vibrato and modulation-distortion sounds (think Pladask Romferd), as well as resonator and wannabe reverb sounds.
- New heavy distortion mode. This allows for even crazier tape-melting sounds and broken videogame sounds as you really go to town on that PT-chip. In the right settings you can even get the pedal to gate itself, causing a stuttering effect. Pair that with oscillating feedback, and you've got something special going on.
- Can be used as a nasty distortion pedal that chews itself up from the inside. Nice.
- Basically, it gets less AND more extreme than the original.
I'm getting the latest (and hopefully final) version of the board sent to me now. If that works as intended and desired, I will start building the first batch of these in late May/early June. Price is TBA. I need to look over my own expenses, price of parts, import/export fees and taxes etc. I just had an urge to make the announcement, hoping it will be the kick in the ass I need to get all of that sorted. Anyways, I'll keep ya'll up to date and post some clips/demos as I inch closer to a release. Thanks for reading for now.