Going to try and make one of these Metallique resonating diffusers. Its a gong, with a surface transducer attached to it, and a small amp driving the surface transducer/gong. Amp will have 1/4" input/volume control to amplify guitar/synth etc. So, in other words its going to be a guitar/synth/etc amp with a gong as the spkr, pretty cool

As far as I can tell, this originated with the ondes Martenot synth, which used three different types of diffusers;
one was the principal diffuser....aka traditional loudspeaker
two is the resonnance diffuser...maybe another project
and the third is the metallique diffuser....a gong set in vibration by an engine, the metal replacing the membrane of the loudspeaker, which creates a metal sound halo at a precise pitch
http://www.thomasbloch.net/en_ondes-martenot.html
here is the Eowave Metallik Resonator, a modern clone of the Martenot metallique diffuser
skip to 3:14 to hear another builders versions in action
So yeah, I'm basically trying to do what Eowave is doing with their Metallik Resonator. Here's a look at the Eowave gong in a cab. I'm just going to use a stand for the gong...although I wonder what sort of effect, if any, a cab would have on the sound?
here is a look at the surface transducer attached to the gong. i'll need to drill small holes in the gong to attach the transducer. you can seen the amp they are using on the base of the cab.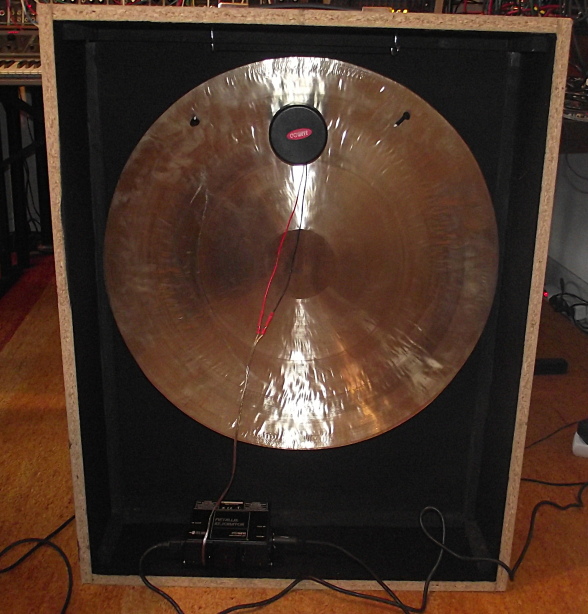 here is another look at one.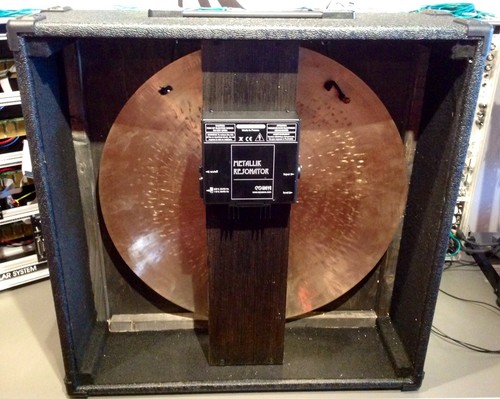 So, here's what I'll be using:
22" Wuhan Wind Gong w/stand
http://www.gongs-unlimited.com/22wuwigo.html
Using a Monacor AR50 resonator attached to the gong. There are 30 and 50 watt versions of the Monacor available. There are also other companies making surface transducers but this is what I'm going with. You can see how I'll need to drill holes to attach the AR50 to the gong with the plate on one side and the "unit" on the other. I'm not 100% certain where the best place to mount the resonator is going to be, but in all the photos I've found it seems like the resonator is always placed in a similar location on the topish/center. Any idea/input on the subject would be appreciated. I'll probably spend some time getting familiar with how the gong sounds when struck in various places, maybe as a guide?
http://www.amazon.de/Monacor-16-2800-50 ... B0057G3Q76
Using a PYLE PMSA20 50-Watt amp. There are others available but this seems like a pretty inexpensive option. Should be able to run two resonator/gongs off of this amp too. If this works out and sounds good I'd like to build another using a different sized gong to hopefully get different resonating sounds. According to Eowave the larger the gong the lower the frequency response you'll get.
http://www.amazon.com/PYLE-PMSA20-50-Wa ... B002UL0X1S
So yeah, otherwise I"ll be using a small length of speaker cable to attach the resonator to the amp buts thats it. Parts are ordered, now the waiting