Prices include shipping! Trade interests at bottom!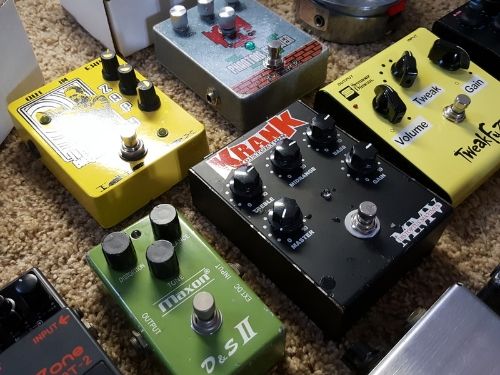 -ADD/dminner Parallel Universe II (EA) clone - Etched hotness FUZZZZZZZZZZ...effects loops but no expression control...
trades/$125
(another I may just keep)
-Guyatone FLIP Bass Driver (w/ power supply) -
trades/$115
-Line 6 Uber Metal & Space Chorus (1 dock, 2 modules) -
trades/$60
-Boss MT-2 Metal Zone -
trades/$30
-Vintage Maxon D&s II -
trades/$75
-Haxan (made by me) - Based on the DA Blue Clipper. Mojo parts. Sounds awesome

-
$125
-Gemini Echorder ec454 - Dual input analog delay. Works, but also needs a little work. -
trades/$40?
-Idiot Box Death Ray -
trades/may keep

-Fuzz Hugger Phantom Flower -
trades/$120?
-Krank Distortus Maximus -
trades/$100?
-Seymour Duncan Tweak Fuzz -
trades/$40
-Hotone British Invasion (5 watt Vox style amp head) -
trades/$40
-Mini combo amps! - Fender Mini Twin (silverface), Vox AC-1 Mini, and Marshall MS-2 -
trades/$55 all 3?
TRADED -Out There Echo (made by me) - Basically a Rebote 2.5 with momentary dry kill. (Can change dry kill to momentary feedback w/ preset for a little extra)
SOLD - Expandora II exp2001 - SOLD
KEEPING - Roland Bee Baa (missing top face plate) - KEEPING
Stuff I would be into:
*Frazz Dazzler
Latent Lemon Hurts
SD-2/HM-2/FZ-2/FZ-3
Space Spiral
Adineko
Drolo Molecular Disrupter or Stamme[n]
*Flashback 2
*Rainger Reverb-X
Ricochet
Dirt Transmitter
Orion Kafka/other reverb
Maxon Water
tuner
synthy things?
what else have you?