Mon Sep 26, 2011 4:09 pm
yeah, i didn't document the max current draw, but that should be fine.
Mon Sep 26, 2011 6:39 pm
I shouldn't have read this thread as I can't has

Tue Nov 01, 2011 8:25 pm
People have theirs..get to the settings!
Tue Nov 01, 2011 8:28 pm
Eric! wrote:People have theirs..get to the settings!
I haven't written any down yet. It's gonna be necessary with this beast!
Wed Nov 02, 2011 12:01 am
psssh. SETTINGS. too many that are awesome.




sorry 'bout the occasional clicks. my compu-tron got a little weird.

silly machine calculator.
Thu Nov 03, 2011 5:06 am
Got mine yesterday, along with the whole CEG pack.

It's an amazing beast, with tons of potential to be discovered.

Amazing job, Brian!
Sat Nov 05, 2011 8:44 am
can I have one?
Wed Nov 23, 2011 8:15 am
Alright, I've moved my pedals up into my room. And I have the where-with-all to actually record a setting. I've had a few other killers, but I didn't write them down, but I'm sure I'll find them again.

This one is a neat kinda swell. The higher the note, the bigger the swell. Lower notes and a firm attack yield normal fuzztones...ish.

FUZZ VOL, 2:00
FEEDBACK, 4:00
STARVE, 3:45
WAVE , 3
FB MODE , IV
VOLTS, 6V
TOGGLE, off
FUZZ SW, on

Kinda similar to the "stock" "dark, compressed fuzz" tone that Brian recorded earlier. Lots of fun into the Xerograph (as are all the settings...).


Hopefully I'll start having a bunch more of these posts!
Wed Nov 23, 2011 3:06 pm
Here's one I dig right now. Every setting with this thing is fucking amazing though. Seriously awesome pedal.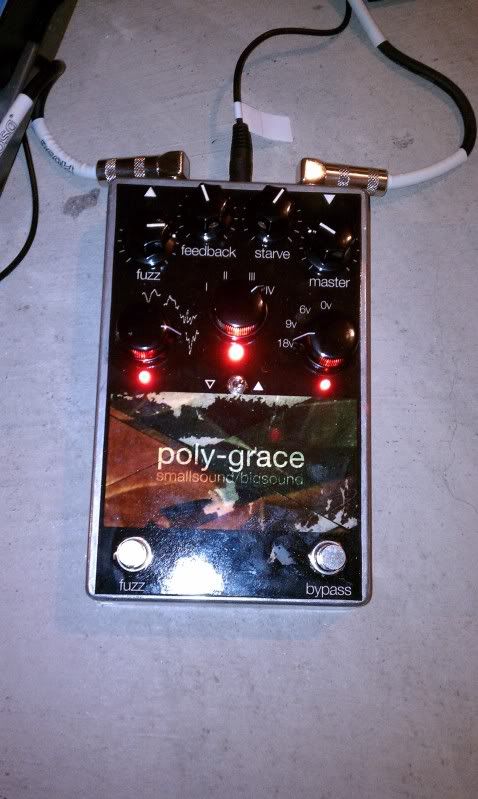 Wed Nov 23, 2011 5:43 pm
i know right? if it wasn't so damn beautiful (buttholes and all), i'd use some different colored markers to have at least 3 or 4 Go To Toanz.

so meaty, so awesome.
Thu Nov 24, 2011 9:12 am
Ok, so I had some time to finally explore this guy today, so impressed...Got some extreme sounds, but also some great 60's ish garage sounds...i did a recording with the following settings


FUZZ VOL 9
FEEDBACK 1
STARVE 0
WAVE - waveform rotary, 1 (up), 2 (up/right), 3 (down/right), 4 (right) 2
FB MODE (I, II, III, IV) II
VOLTS 18V
TOGGLE left
FUZZ SW (stompswitch on/off) toggle between on and off

To me it sounds like JAMC/lo fi/60's garage...I was using a '65 Duo sonic into an 90's AC30, quite trebly, but not piercing.
Mon Dec 12, 2011 12:53 pm
jwar wrote:Every setting with this thing is fucking amazing though. Seriously awesome pedal.
Truth!

A normal(ish) Poly sound I'm loving lately, similar to a bass-heavy muff (think Pharaoh) but a touch nastier/looser. Sounds massive!
FUZZ VOL - 2 'o clock
FEEDBACK - 10
STARVE - 7 (or zero starve)
WAVE - 3
FB MODE - II
VOLTS - 9V (more mid present) or 18V (doom/sludge/stoner territory)
TOGGLE - Off
FUZZ SW - On
Wed Dec 14, 2011 9:21 am
lofi with a bit of dirt and gate - excellent setting for single note lines on the E and A strings (speaking of guitar).
fuzz not engaged
Wed Dec 14, 2011 9:33 pm
Good to see someone else rocking the greatest pedal combination on Earth.

Fri Dec 16, 2011 2:38 pm
If anyone ever gets tired of one of these....I will grossly overpay for one.