I've been wanting to build my own pedal for a while now, I finally had some extra time on my hands and decided to make it happen :thu:
Being this was the first pedal that I was building from scratch (that wasnt a TB looper) i decided to go with a single knob Fuzz Face circuit. It seemed simple and straight forward enough and it turned out to be not *too* difficult to get it all working properly.
This bad boy uses 2N2222 transistors on a Radio Shack PCB, has a single fuzz knob along with a voltage sag (powa) knob. Its TB of course with a red LED. I whipped up the graphic in Illustrator and printed it out on a Testors water slide decal sheet. I had all the other parts lying around..
Pics:
Decal:
Layout:
Guts: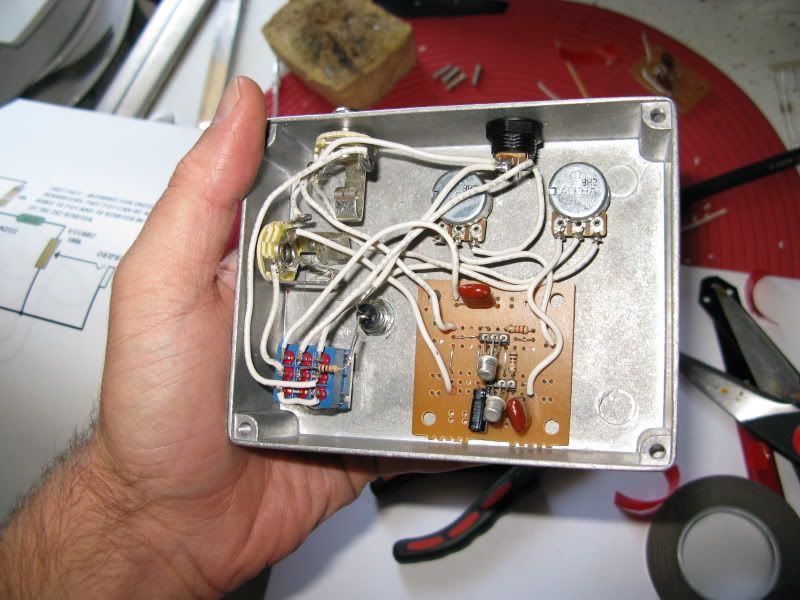 Finished:
I was quite surprised at how good this fuzz sounded, i guess i didnt really havy my hopes up that high, being that it was my first build. So kudos to me :thu:
The fuzz cleans up really nice when rolling back the volume on the guitar, and the Fuzz and Powa knobs are really interactive. I can get a whole different kind of fuzz with the Powa all the way up and fuzz down and visa versa.
I'm thinking about building another pedal with an additional BMP tone circuit from Bevis Audio but I gotta figure out how to do that.. Haha