Not finished, quite, yet as I'm waiting for my gf to finish the top of the enclosure, and I can't solder with the bulky bandage on my middle finger...
Enclosure from an old Walco FUZZ Tone Generator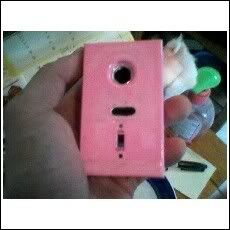 Some blood from the incident
The parts waiting to be put into the enclosure
The wire I was cutting when I lopped off the tip of my finger

And, the bandaged finger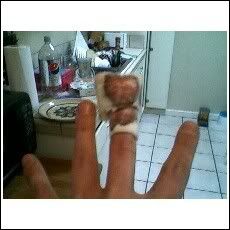 The circuit is from one of those cheap Halloween voice changers. I'm going to put jacks where the microphone and speakers originally were, and add a gain control to control the amount of distortion and a true bypass dpdt switch. It has a mode switch to go from simple distortion to adding something between a flattened and perfect fifth to an octave down. I'm putting it together for my vocalist. On guitar, it's an extremely nasty, gated fuzz that gets cool old video game sounds with an ass load of fuzz with no sustain.
The circuit is a simple 386 chip based gain unit with some diodes and shit. I'll post a schem of it once I trace it. But, it's kind of a switchable cross between Tim Escobedo's Rambler (Rambla?) and Vedron Juratovac's Underfuzz and Smokey Amp